Over the past 50 years a wide variety of antibacterial substances have been discovered and synthesised, and their use in treating bacterial infection has been spectacularly successful. Today there are several general classes of antibacterial drugs, each having a well established set of uses, and together they form the mainstay of modern antibacterial chemotherapy. In search for new and improved agents, the pharmaceutical researcher needs to be well informed on many topics, including existing agents, their modes of action and pharmacology, and possible synthetic approaches. In this new book the author has brought together a wide range of information on the principal classes of antibacterial agents, and he covers, for each group, their history, mode of action, key structural features, synthesis and bacterial resistance. The result is a compact and concise overview of these very important classes of antibacterial agents.
​

Linker Strategies in Solid-Phase Organic Synthesis
(Author, Chapter 1 – Introduction, Background and Pivotal Discoveries)
Linker design is an expanding field with an exciting future in state-of-the-art organic synthesis. Ever-increasing numbers of ambitious solution phase reactions are being adapted for solid-phase organic chemistry and to accommodate them, large numbers of sophisticated linker units have been developed and are now routinely employed in solid-phase synthesis.
​
Linker Strategies in Solid-Phase Organic Synthesis guides the reader through the evolution of linker units from their genesis in solid-supported peptide chemistry to the cutting edge diversity linker units that are defining a new era of solid phase synthesis. Individual linker classes are covered in easy to follow chapters written by international experts in their respective fields and offer a comprehensive guide to linker technology whilst simultaneously serving as a handbook of synthetic transformations now possible on solid supports.
Progress in Medicinal Chemistry, Volume 40
(Editor)
Progress in Medicinal Chemistry has a long established reputation for excellent coverage of almost every facet of medicinal chemistry, and is one of the most respected and instructive sources of information on the subject. Each volume reflects on the current progress in this broad field of science. Chemists, biologists, doctors, pharmacists and anyone interested in the contemporary controversy about drugs, drug firms, and the community will find this series useful.
​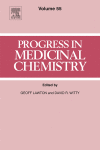 ​

Solid-Phase Organic Syntheses, Volume 1
(Author, Chapter 2. Solid-Phase Mannich Reactions of a Resin-Immobilized Secondary Amine & Chapter 5. Solid-Phase Mannich Reactions of a Resin-Immobilized Alkyne)
The rapid expansion of combinatorial chemistry has renewed interest in solid-phase organic synthesis, a method that lends itself well to creating and screening large numbers of lead compounds. Solid-Phase Organic Syntheses, Volume 1 is the first volume in a series that will be updated annually, filling a gap in the existing chemical literature. Providing information previously unavailable from a single resource, this series is dedicated to providing researchers in the field with validated and tested methods for the solid-phase synthesis of interesting and biologically relevant molecules.
​
Solid-phase methods will virtually always be invented for application in combinatorial organic synthesis. To meet these specific needs, Solid-Phase Organic Syntheses, Volume 1 focuses on a single type of synthetic transformation accomplished on solid support, and indicates how procedures are optimized to work with a structurally-wide variety of reagents. Written by recognized leaders in the field who review and test all chemical protocols before publication, organic transformations are organized by type of compound synthesized and reaction type.

​
Advances in Medicinal Chemistry, Volume 5.
(Editor, Author of Preface)
Volume 5 of Advances in Medicinal Chemistry contains four intriguing and detailed accounts of the close interface between synthetic chemistry, structure-activity relationships, biochemistry, and pharmacology. In Chapter 1, there is a comprehensive survey of the immunophilin area specifically focussing on neuroregenerative applications in the central nervous system. In Chapter 2, there is an overview of the development of a potent analgesic compound that works via modulation of neuronal nicotinic acetylcholine receptors. In Chapter 3, there is a description of dopamine D-2 autoreceptor partial agonists as potential therapy for the treatment of schizophrenia. In Chapter 4, there is a summary of the successful program in which potent non-peptide inhibitors of HIV protease from the AIDS virus were developed.
​
​
Antibacterial Chemotherapeutic Agents
(Author)